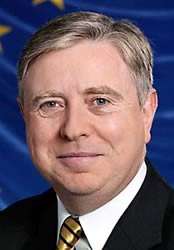 Mr. Pat Cox, former President of the European Parliament and member of Michelin Group's Supervisory Board, will be a guest of honor at the Global Summit of the Michelin Challenge Bibendum in Chengdu, China, from November 11 to 15.
In this short interview, Mr. Cox discussed the five main game changers to be presented at the next Michelin Challenge Bibendum. These Game Changers:
     - Ultra Low Emission Zones,
     - Reduced CO2 emissions,
     - Door to Door Transport,
     - Last Mile Delivery and
     - Mobilization of Private Investment
will be presented in a Green Paper at the Michelin Challenge Bibendum Chengdu, China, Global Summit.
Pat Cox on Game Changers-ENG.m4v (39.0 MB)